County Organizations for Disaster Assistance
Leading RECOVERY after disaster strikes Richland County
In September, 2007, a group of faithful volunteers from across Richland County formed Richland CODA in response to severe flooding in August, 2007. However, we are about more than just flooding. We serve Richland County residents by providing coordinated, long-term recovery efforts following a disaster. We identify the geographic area affected and determine the extent of long-term recovery needs by: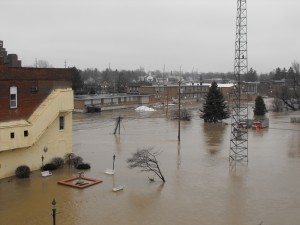 Collaborating with local first responders to transition from emergency response to long-term recovery.
Fostering coordination of local organizations to provide local volunteers, financial assistance, material needs, spiritual and emotional support for those affected by a disaster.
Advocating for people most vulnerable to be overlooked in the long-term recovery process.
Maintaining public visibility of long-term recovery needs and distributing donations to survivors.
Promoting disaster preparedness to reduce loss of life and property damages.
We bring together faith-based and civic organizations to provide long-term recovery assistance to those suffering losses that are not covered by insurance or assistance from other organizations. We are totally a volunteer organization. We are a member of Ohio VOAD (Voluntary Organizations Active in Disaster) and as such can draw resources outside of Richland County. After a disaster, we engage trained disaster caseworkers that review needs on a case-by-case basis and provide assistance within the limits of personnel, materials, and funds available to us.
We were able to respond to flooding events in 2007 and 2011. Richland CODA meets regularly to review our readiness and preparedness. Membership is open to representatives from all local faith-based and civic or government organizations and concerned citizens. We collaborate with Richland County EMA, the Red Cross, the Richland Public Health Department, and other first responders to make the transition to long-term recovery as smooth as possible.
Good stewardship is a key component of Richland CODA. Our fiscal agent is the North End Community Improvement Collaborative. Donations are accepted anytime and are tax deductible. Donations can be made at any First Merit Bank with checks payable to Richland CODA and designated North End Community Improvement Collaborative (NECIC)  or mailed to 410 Park Avenue West, Suite 2, Mansfield, OH 44906.
We thank God for your support,
Rebecca Owens, Richland CODA Chairperson
Site Manager/CES Program Coordinator
Disaster Response Coordinator
Catholic Charities Diocese of Toledo